A graduate of engineering from University College Dublin, Mr Power has completed a Master's Degree in Industrial Engineering (MIE) and an MBA. Following graduation, he began working as a Technical Advisor with General Electric in the USA and South America. In 1978, Mr Power joined ESB, where over a 30-year career, he enjoyed a number of diverse roles in Engineering Management, Marketing and Corporate Change before becoming HR Manager in ESB Networks, Executive Director in ESBI, and finally, Head of ESB Corporate Affairs.
Mr Power is also a former Director General of Engineers Ireland (2007 – 2015) where he greatly enhanced the profile of the profession by highlighting the contribution of engineering to the quality of all our lives.  As an advocate for Registered Professional Titles, Mr Power promoted the title of Chartered Engineer and was instrumental in the inclusion of the CEng title in the revised building regulations. During his tenure, Mr Power was also fundamental in raising the reputation of Irish engineering qualifications internationally and the requirement for a Master's degree or equivalent, to secure the title of Chartered Engineer.
Commenting on his inauguration as President of Engineers Ireland, Mr Power said: "I am deeply honoured to become President of Engineers Ireland and to represent our diverse and creative community of over 25,000 member-engineers. As President, I look forward to working with and for our engineering community who are critical to developing creative and sustainable solutions to benefit society and to support economic growth and development."
Also inaugurated to the role of Vice-President at the professional membership body's AGM was Laura Burke, Director General of the Environmental Protection Agency.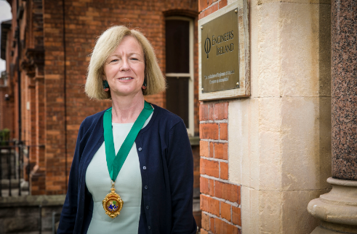 Ms Burke is a graduate chemical engineer of University College Dublin, holds an MSc from Trinity College, Dublin, is a Fellow of the Institute of Engineers of Ireland and is a Chartered Director.  In 2016, Ms Burke was awarded the UCD Engineering Graduates Association (EGA) Distinguished Graduate Award.
Commenting on her inauguration to Vice-President, Ms Burke commented: "I am honoured to be elected as Vice-President of Engineers Ireland. Engineers play a critical role in delivering innovative sustainable solutions to current and emerging societal issues such as Climate Change, and as Vice President, I look forward to working with President John Power and the wider membership to leverage the talent of our engineering community."