The vessel was designed and built to include the production specification drivetrain, battery and flight control components consumers will eventually see in the finished workboat. With big goals set for 2022, this announcement brings Artemis Technologies one step closer to providing high-speed zero-emission maritime transport to the masses.
The 11.5 metre vessel named "Pioneer of Belfast" is powered by the revolutionary Artemis eFoiler system, which enables the prototype to fly over the water, using significantly less energy than a conventional workboat with high-speed re-charging technology also developed.
Launched from the company's research and manufacturing facility in Belfast Harbour, the prototype is currently undergoing sea trials to verify its technical capabilities match those from the company's digital twin simulations, ahead of the launch of Artemis Technologies' small workboat range next month.
The company which is a spin-off from the Artemis Racing America's Cup team, has attracted significant UK Government and private investment, and has partnered with Northern Irish organisations on a mission to help deliver a sustainable maritime future.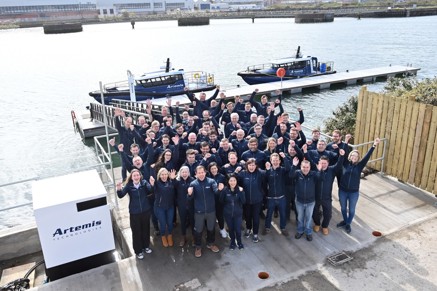 David Tyler, Commercial Director of Artemis Technologies, commented: "This prototype, a first of its kind in the commercial workboat sector, is the largest electric foiling vessel in the world. Pioneer has already achieved regulatory approval, having been issued with a UK Loadline Exemption on the basis of meeting MCA's Workboat Code through equivalence and rigorous risk assessment and mitigations.
"We're now at a crucial time for not only the Artemis Technologies business but for the future of maritime transport. 'Pioneer of Belfast' is just the beginning; we have several high-speed zero-emission vessels in development that will transform the commercial workboat and city-to-city passenger ferry sectors over the coming decades."