ABB's award-winning PixelPaint technology has recreated Advait's swirling, monochromatic design as well as Illusorr's tri-colour geometrical patterns.
Equipped with 1,000 nozzles in the printer head, ABB's IRB 5500 paint robots were able to complete the highly complex artworks in under 30 minutes. The PixelPaint technology demonstrates precision and speed, capturing intricate, elaborate detail that would be impossible to achieve by hand.
ABB's ground-breaking PixelPaint technology reimagines the paint application process and reflects the growing demand for sustainable personalization in the automotive industry, particularly in exterior paint. Multi-coloured car painting has traditionally been a laborious and costly process involving multiple stages of masking and unmasking, but ABB's technology allows for a detailed, colourful, and exact replication of any design.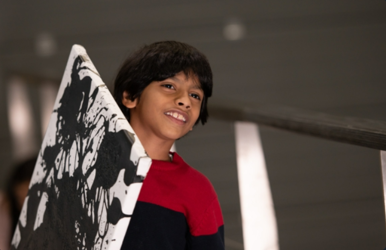 PixelPaint technology also enhances manufacturing sustainability, removing the need for masking materials and extra ventilation, which lowers emissions while saving water and energy. Coordinated by the firm's RobotStudio software, the paint head tracks very closely to the vehicle body to ensure 100 percent of the paint is applied to the car with no airborne misting. Different paint colours are applied quickly, with the product only running through the paint shop once. For car manufacturers, this can halve the production time and reduce costs by up to 60 percent.
Sami Atiya, President of ABB's Robotics & Discrete Automation business area, commented: "ABB's PixelPaint technology is more than an evolution – it is a revolution […] robotic automation and our RobotStudio software can not only pave the way for more sustainable manufacturing but can also perfectly replicate delicate pieces of art."