SMEs account for a significant proportion of firms operating in the key subsectors of Pharmaceuticals and Chemicals, Food and Drink, Medical Devices, Computers and Electronics, and Engineering. Ireland's level of employment in high-technology manufacturing, as a share of total employment, is now the highest in the EU, with 29% of manufacturing jobs in high-technology sectors.
Recent events such as the COVID-19 pandemic and ongoing war crisis, as well as the increasing rate of technological change is forcing businesses to continuously change and adapt their operations to remain competitive. Working together enables SMEs to become more resilient and thrive in this increasingly volatile business environment. IDEAM thrive to foster strong relationships and collaboration within the manufacturing ecosystem in Ireland in order to address and overcome challenges collectively. 
 
IDEAM Cluster's core aim is to unlock collaborative opportunities for the Irish Manufacturing SME ecosystem and cluster members through Digitalisation and Green transition. We create these opportunities by working on our 4 core Strategic Growth areas: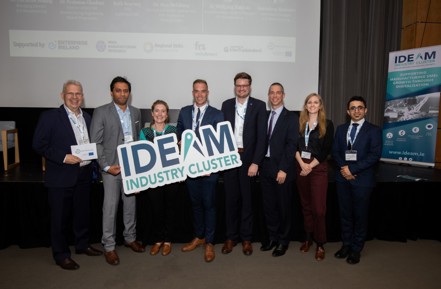 Patrick Byrnes, CEO of Croom Precision medical - "We aim to enhance our competitiveness through the digitalisation of our manufacturing processes. By joining IDEAM, we have unlocked new and invaluable opportunities for CPM concerning funding opportunities, international collaborations, R&D projects, networking, and support for our digitalisation efforts. We are delighted to be part of the IDEAM Cluster community and their team!" 
Niall Brennan, Operations Manager of Total Precision - "We at Total Precision feel that digital transformation is the ONLY way forward for machining, and having spoken with Jamie and heard his proposals, it's obvious that joining IDEAM is the best vehicle to be onboard to enhance our journey. It is refreshing to hear IDEAM and Jamie's plan for digitalisation and for greater collaboration in the manufacturing sector in Ireland." 
Grow your business with IDEAM: https://www.ideam.ie/registration/