Investment in research and development (R&D) and innovation has positioned Ireland as a world leader in MedTech innovation. Here Dave Walsha, sales manager at small DC motor supplier EMS, explores how Ireland's MedTech industry has made cutting-edge advances, with the support of micromotors.
In the 1980s, Ireland's manufacturing industry suffered a downturn. To safeguard the sector, the Irish government and its manufacturers turned to MedTech. From just a small group of 50 companies in the early 1990s, the MedTech landscape in Ireland has rapidly expanded to become a leading global hub that's home to 350 companies employing over 38,000 people.
Drivers for success
A key factor in the success of Ireland's MedTech industry is the support shown by the Irish government, which still continues today. IDA Ireland, a government body
designed to encourage investment into Ireland, provides valuable consultancy and support services to help MedTech organisations establish and expand.
In addition, the Irish government has provided financial support for MedTech companies in the form of various government grants and the 25 per cent R&D tax credit, which encourages foreign MedTech companies to establish a base in Ireland.
Point of care analysis
To make diagnostic testing cheaper, faster and smarter, many healthcare professionals are turning to point of care (PoC) testing. This is testing that is performed outside of a laboratory setting, such as in the doctor's office or the emergency department.
In just minutes, a medical practitioner can gain an accurate picture of the patient's health. With PoC testing, patients no longer have to wait for results, offering instant peace of mind and allowing treatment to begin immediately.
PoC analysis devices use miniature drive systems for the disposition of samples, and to mix with reagents using rotating and shaking motions, allowing the testing to be nearly fully automated. Therefore, minimal training is required for personnel using PoC testing, making it widely accessible.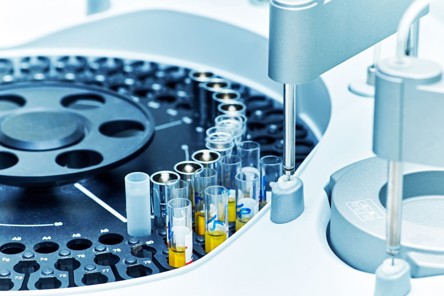 Laboratory diagnostics
However, PoC cannot be used in all circumstances, and more complex cases will require laboratory diagnostics. Thanks to innovations in automating laboratory diagnostics, this is no longer the time-consuming, labour-intensive process it once was.
Automated laboratory equipment can perform all the repetitive steps involved in diagnostics, such as moving the test tube into position and lowering the needle to take a sample, with high levels of precision. The system works without interruption at a constant speed, enabling a higher throughput than would be possible with a PoC system and increasing cost-effectiveness in the laboratory.
Supporting motors
Whether diagnostics is being undertaken by PoC testing or in the laboratory, the equipment must be powered by a reliable drive system to ensure results are fast and accurate. EMS is the sole UK and Ireland supplier of FAULHABER motors, which are made in a finely controlled manufacturing process that ensures they perform with high repeatability and reliability.
FAULHABER DC micromotors are compact in size, highly efficient and offer a high power to weight ratio. They enable PoC testing systems to have a long service life with low maintenance needs.
FAULHABER's DC micromotors are also ideal for automated laboratory diagnostics, as their ironless, self-supporting copper coil with skew-wound design
makes them lightweight and compact. They can be integrated into the moving component without adding unnecessary bulk.
Alongside government support and excellent local talent, it is the constant drive for innovation that has cemented Ireland's position as a world leader in MedTech. High performance, reliable motors have been fundamental in revolutionising diagnostics. We can only imagine how Irish MedTech will develop the technology in the coming years, improving patient quality of life even further.